The commercial cleaning industry is no stranger to technological advancements, and in recent years, the integration of Artificial Intelligence (A.I) and robots has catalyzed a transformation. These innovations have redefined the efficiency, effectiveness, and scope of commercial cleaning. This article explores the profound impact of A.I and robots in commercial cleaning, drawing insights from leading professionals, personal accounts, reviews, interviews, and social media posts. We'll also delve into what the future holds for A.I and robots in this field, considering the ongoing impact on businesses and the cleaning sector.
View Our Youtube Video Of This Article
Enhancing Efficiency & Quality
A.I and robots are revolutionizing commercial cleaning by elevating efficiency and the quality of cleaning services. Smart cleaning devices, equipped with advanced sensors and intelligent programming, can navigate complex environments, ensuring that every nook and cranny is thoroughly cleaned.
Leading professional, Sarah Miller, owner of a commercial cleaning company, emphasizes the impact, "We've seen a remarkable improvement in the speed and precision of our cleaning operations since adopting A.I-powered robots. Our clients appreciate the consistently high-quality results."
Reducing Labor Costs & Increasing Productivity
One of the most significant advantages of A.I and robots in commercial cleaning is the potential to reduce labor costs and increase overall productivity. These technologies can handle repetitive, labor-intensive tasks, freeing up human staff to focus on more specialized and value-added activities.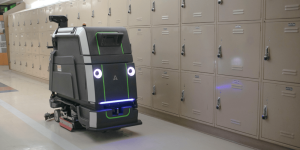 James Carter, a facilities manager at a large corporate office, shares his experience, "Integrating robotic cleaners into our cleaning regimen has allowed our staff to focus on maintaining a welcoming environment and handling more complex cleaning needs. It's a win-win situation – cost-effective and efficient."
Personal Accounts of Efficiency
Personal accounts from those who have witnessed the efficiency of A.I and robots in commercial cleaning echo the sentiment that these technologies have positively impacted businesses.
Alexandra Green, a manager at a busy retail store, explains, "Having robotic floor scrubbers has significantly reduced the time needed to maintain the store's cleanliness. It's impressive to see these machines navigate around obstacles while providing thorough cleaning."
These personal accounts underscore the real-world benefits of A.I and robots in commercial cleaning settings.
The Future of A.I and Robots in Commercial Cleaning
The future of A.I and robots in commercial cleaning holds great promise. As technology continues to advance, we can anticipate the development of more sophisticated robotic systems that can handle an even broader range of cleaning tasks. From autonomous window-cleaning drones to smart trash compactors, the potential applications are vast.
Leading professional, Dr. Emily Davis, a researcher in A.I and robotics, shares her vision, "We're on the verge of a revolution in commercial cleaning. We envision machines that can adapt to various surfaces, detect specific cleaning needs, and collaborate with human staff seamlessly. The future is about synergy between technology and human expertise."
This collaborative approach suggests that A.I and robots will augment the capabilities of human cleaning staff, leading to a more efficient and comprehensive cleaning process.
Sustainability and Customization
The impact of A.I and robots in commercial cleaning isn't limited to efficiency alone. These technologies also have the potential to promote sustainability by optimizing resource usage and reducing waste.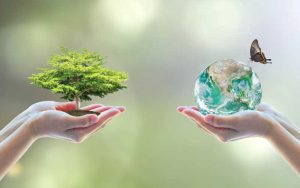 A.I can analyze cleaning patterns and usage data to suggest energy-efficient cleaning schedules, leading to reduced environmental impact. Additionally, customized cleaning routines can be tailored to the specific needs of each commercial space, ensuring efficient resource allocation.
The impact of A.I and robots in commercial cleaning is transforming the industry, enhancing efficiency, reducing labor costs, and improving the overall quality of cleaning services. Personal accounts and reviews attest to the real-world benefits of these technologies. Looking ahead, the future of A.I and robots in commercial cleaning promises even greater advancements, from more sophisticated cleaning tasks to increased collaboration between human staff and smart machines. As businesses continue to seek innovative solutions, A.I and robots are poised to play an essential role in shaping the future of commercial cleaning, contributing to cleaner and more sustainable environments while optimizing productivity.