ECOVACS is a top auto cleaning robots supplier, committed to the robot vacuum cleaner, auto cleaner robots.
ECOVACS' more than 24 years of work in service robotics has seen the company transformed from a visionary startup into a global corporation with a Mission of Robotics for All. Designed to change the way people live and work, our trendsetting robots are now available in more than 145 countries and regions around the world. 
Our guiding Vision – Advancing robotic technologies to serve the world, to create a holistic ecosystem between human and robotics in lifestyle and production.
Shop online now with ECOVACS and get CSS EXCLUSIVE offers & great discounts on cleaning equipment!
Click the products or highlighted links for fantastic ECOVACS deals!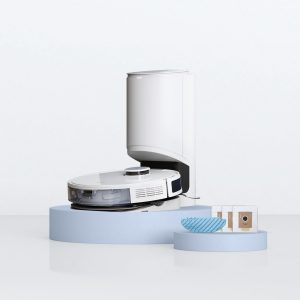 Save over a whopping £300 on this fantastic Robot Vacuum!
DEEBOT N10 PLUS is crafted with an eye for detail and comprehensive antibacterial care, powered for long-lasting performance and engineered with the auto dust collection technology to ensure maximum freshness.
Offers available from our partners. CSS are not responsible for offers withdrawn from our partners before our website update. All terms and conditions related to any offers presented from ECOVACS UK can be found on the ECOVACS UK official website. CSS do not sell any of the offers presented on this page. Offers presented on this page are valid partner deals but must be purchased via ECOVACS official website. Offer links will take you to our partners official website, where items can be purchased via ECOVACS official website shopping cart facility.
Please click the link below for ECOVACS UK official homepage.