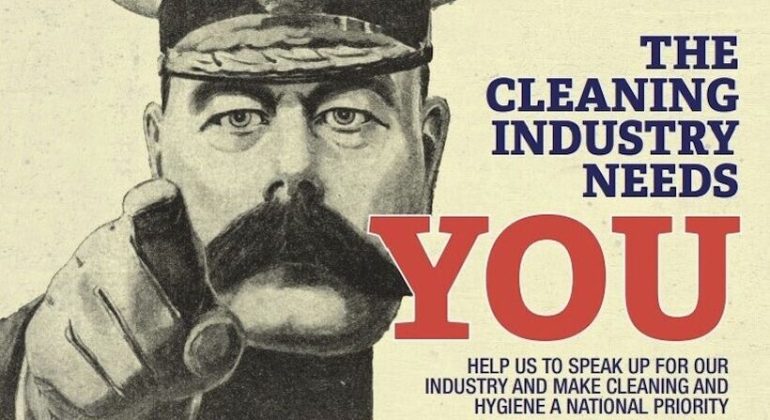 Delia Cannings, newly-appointed Chair of the British Cleaning Council, has appealed for more staff to back 'common sense' proposals to make cleaning and hygiene a national priority. Delia wen on to thank the more than 450 industry members who have so far backed its campaign to make cleaning and hygiene a national priority.
.
It comes as a new assessment rating the likelihood of a pandemic in the future shows how important it is that the Government takes the measures being demanded in the campaign. The recently published National Risk Register ranked the chances of a future 'catastrophic' pandemic as between 5 and 25%.

The campaign is calling for the Government to accept in full the 11 recommendations in the report by the All-Party Parliamentary Group (APPG) for the Cleaning and Hygiene Industry, entitled Embedding Effective Hygiene for a Resilient UK. The measures would make the UK much more resilient to current common infections such as flu and also better prepared for future public health emergencies – like the future pandemic flagged up by register.

BCC Chair, Delia Cannings, said: "I want to say a huge thank you to everyone who has backed the campaign so far. But if you haven't, please do take part. It is literally a matter of life and death, and it should only take a few minutes to get involved. We need your help to make the voice of the cleaning and hygiene sector heard and guard against more tragedies in the future. As the general public seek reassurances regarding cleaning standards, we must stand together to reinforce the value of the role our cleaning and hygiene operatives play. After all, let's not forget they are the guardians of the standards. Brave cleaning staff were on the frontline in the battle against the Covid pandemic and the risk of a pandemic returning shows how the role of our sector's professional and skilled personnel in keeping people healthy, well and safe continues to be vital. Persuading the Government to take the steps recommended by MPs in last year's report will also help save lives and protect public health by guarding against common infections like flu. Surely it is only common sense to learn the lessons of the Covid-19 pandemic and keep cleaning and hygiene at the top of the agenda going forward."

The British Cleaning Council and 21 associations from across the cleaning, hygiene and waste industry announced a campaign in February asking sector staff to help lobby MPs to make cleaning and hygiene a national priority. Industry colleagues are being asked to download a pre-written letter from the BCC website calling on the Government to accept the APPG's recommendations and email it to their local MP along with the report.

The BCC has circulated a QR code which people can scan or they can visit https://britishcleaningcouncil.org/2023/02/06/download-letter-here to find the letter, APPG report and details of their local MP.
The drive takes place under the umbrella of the BCC's We Clean, We Care campaign, which reflects the pride that skilled and professional cleaning staff have in the vital, frontline role.

The Embedding Effective Hygiene for a Resilient UK made 11 key recommendations, summarised below:

· The establishment of a joint Government-industry preparedness team to plan for public health emergencies.
· Minimum levels of cleaning materials and equipment to be agreed and made available in readiness.
· Thought to be given to how to increase production during a public health emergency.
· Key frontline worker status must be bestowed upon cleaning operatives and staff working in supply and manufacturing if a pandemic happens.
· Urgent consideration to be given to making cleaning staff eligible for the Skilled Worker Visa scheme.
· Minimum standards for hygiene infrastructure and cleaning in diverse venues to be agreed.
· A standard qualification for cleaning to be developed within the Apprenticeship Levy.
· Training budgets for cleaning operatives should be adequate.
· Government communications around hygiene in times of pandemic should be clear, consistent, sustained, timely, relevant and specific.
· The Government should use behavioural science-based communication campaigns to promote hygienic behaviour to the public.
· The Government should support the cleaning and hygiene industry in realigning perceptions of the industry.

www.britishcleaningcouncil.org